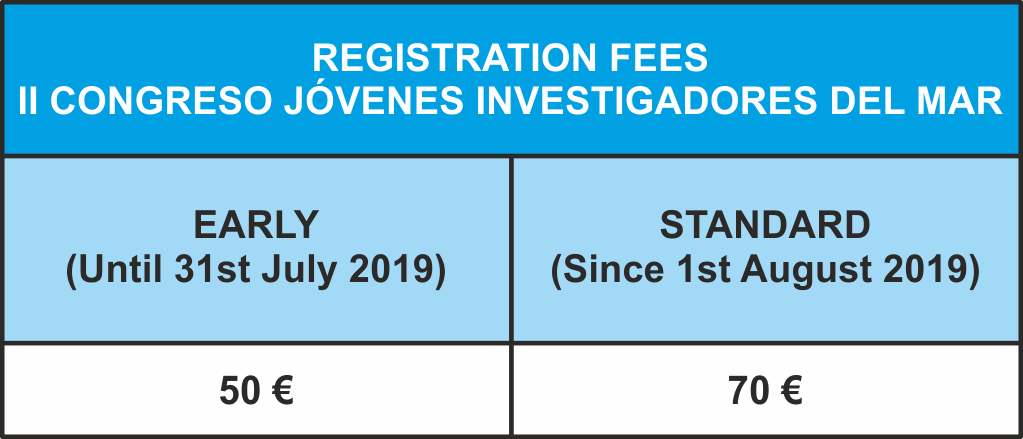 The registration fee includes: registration pack, entrance to all the sessions, welcome cocktail and coffee breaks among the sessions.
The registration fee does not include: hotel, meals and congress dinner.
While filling the form below, please specify if you will join the dinner. The price for the dinner is not included in the registration fee and you whould pay apart. Please check the page Congress Dinner for more information.
Registration fee payment
The registration fee will be paid by bank transfer. You will have to indicate in the transfer object the following information:
Passport number Ref 803011540000
Example: 712542369R Ref 803011540000
Bank: UNICAJA
IBAN ES24 2103 0146 9600 3002 8661
SWIFT UCJAES2MXXX
And you will have to indicate 'II Congreso Jisdelmar' in the transfer receiver.

Attention! Make the bank transfer and attach the receipt in the following form.
The numerical reference 803011540000 is particularly important to let us track your payment. Don't forget to add it!
The invoice has to be asked by e-mail at tesoreria@uma.es provinding the following informatio:
Congress reference,
Congress name,
Invoice details,
Quantity and name of the contributor.
Congress attendance grants
The International Campus of Excellence in Marine Science (CEI·Mar) has published the call for 60 fellowships to attend the II International Congress of Young Marine Researchers.
Will be eligible all the young marine researchers linked to any of the universities and research centres of the Excelence Campus (except the University of Malaga and the Oceanographic Centre of Malaga, IEO) investigating about any of the thematic areas of CEI·Mar and being registrated as first author for a contribution to the II Congress of Young Marine Researchers.
The deadline has been extended to 15th June (only for Master courses students). For additional information you can check this link. Don't miss this opportunity!
Definitive list of the fellowships call has been published